SEARCH, SAVE... GO!
Theispot is the place to discover the world's best illustrators, whether you're ready to assign fresh artwork for your project in Portfolios or looking to license the perfect existing illustration immediately through our rights-managed Premium Stock Collections.
Some of our many well-known subscribers include: Mark Smith, Anna + Elena Balbusso, David Plunkert, Jing Jing Tsong, Michael Austin, John Hersey, Jon Krause, Richard Borge, Tim O'Brien, Keith Negley, Brian Stauffer, Dan Page, Cathy Hull, Steven Salerno, Michael Sloan, Alex Nabaum, Steven Noble, Lou Brooks, Yvetta Fedorova, Robert Neubecker, Edel Rodriguez, Adam McCauley, Pete Ryan, Beppe Giacobbe, Brad Yeo, Curtis Parker, Harry Campbell, Raul Colon, Jason Seiler, John Tomac, Andrew Archer, Hanna Barczyk, Lorenzo Gritti and Valeria Petrone.
PORTFOLIOS: How It Works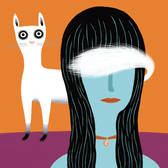 Illustrators upload 60 keyworded images, along with contact and profile information, directly to our database for each Portfolio.
Buyers search among hundreds of artists using keywords; results are returned according to relevance, leading them straight to the Portfolios that best match their search criteria. Portfolios of specific illustrators or representative groups can also be located and accessed by name.
Images can be saved to a lightbox to easily organize, share and collaborate. The buyer contacts the artist or rep directly to discuss and assign the job.
STOCK: How It Works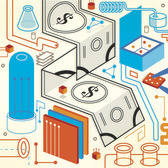 Illustrators upload and keyword an unlimited number of illustrations, both classic and brand new, specifying any previous usage or restrictions on the work. Theispot displays the image in low res on the site and archives the high res version for post-license delivery. The artist selects from ten levels to price their work appropriately for certain simple editorial usages. The illustrator receives 75% of the negotiated or online calculated price.
Buyers search from over 37,000 illustrations using keywords; they may also review and search within the stock collection of a specific artist. Images can be saved to one or more lightboxes to easily organize, share and collaborate; on screen sales history of each image helps prevent duplicate usage. Once the perfect illustration is found, the buyer may use our online pricing tool for Editorial specifications, license the work on line (via secure credit card transaction or by arranging for a purchase order account) and download a hi res file immediately.
For Custom Licenses and non-editorial uses, Theispot staff is available at 800.838.9199 x 1 to ensure that the sale goes smoothly and an appropriate fee is retrieved for the artist. We provide digital output and process the total transaction by credit card, or invoice for approved companies.